New Address: Liverpool City, L3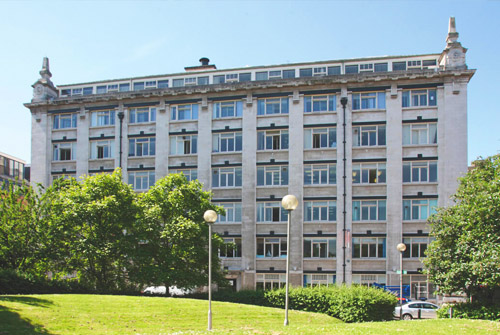 Liverpool is noted for its culture and architecture. The city is closely associated with the arts, especially music; the popularity of the Beatles, who are  widely regarded as the most influential popular musical group in history. Several areas of Liverpool city centre were granted World Heritage Site status by UNESCO in 2004. The city celebrated its 800th anniversary in 2007 and was named the 2008 European Capital of Culture.

Liverpool's economy is dominated by service sector industries, both public and private. In 2007, over 60% of all employment in the city was in the  education, health, public administration, banking, finance and insurance sectors. 

Liverpool Cotton Exchange is an office block in Old Hall Street, Liverpool, Merseyside, England. 

Between 1967 and 1969 the building's exterior was given a contemporary mid-20th-century design. It is recorded in the National Heritage List for England  as a designated Grade II listed building and is listed in Wikipedia.
The building is used mainly for offices; retail facilities operate at street level. It was officially opened by the Prince and Princess of Wales on 30  November 1906 and was home to Liverpool's registrar's office and coroner's courts up until January 2012. 

The building is in seven storeys and the sides and back of the building are largely unaltered from the original design.

The façade on Edmund Street, facing northwest, has retained cast-iron panels decorated with wreaths, made by Macfarlane's of Glasgow. The back of the building, on Bixteth Street, is faced with Portland stone, and the Ormond Street front is in brick. Inside the building the colonnade formerly surrounding  the trading floor is still present. 
 
Area Type: Commercial.

Nearby Amenities: St. John's Shopping Centre and Walker Art Gallery are close by and the area is well served for shopping and dining.

Suitable for business types: Professions, Retail, Services.

Read more ...
---
50% Off

Directors Address service
If you also buy the Registered Office Address and Business Address services.
Use code: DIR-50
FREE

Company Formation (Was £20)
With every Registered Address service. Submit in as little as 60 seconds!
£25 Off

Dormant Company Accounts
Let our accountancy team file this with Companies House within 24 hours!
Use code: DCA-25