New Address: Cornhill, City of London, EC3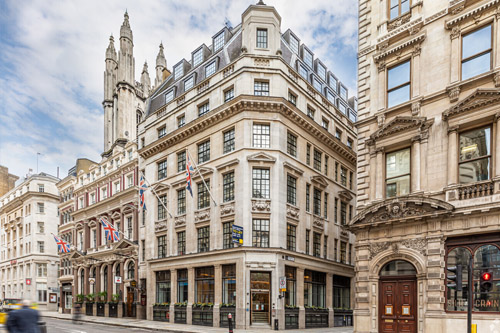 Cornhill is a ward and street in the City of London, the historic financial centre of London. The street runs between Bank junction and Leadenhall Street and is mentioned on Wikipedia.
Cornhill takes its name from one of the three ancient hills of London; the others are Tower Hill, site of the Tower of London, and Ludgate Hill, graced by St Paul's Cathedral.
It is near the internationally famous Bank of England, and Monument, which is a very tall monument pillar created to commemorate the Fire Of London, and an historic, well-known tourist attraction.

The street contains two of the City churches designed by Sir Christopher Wren. Sir Thomas Gresham's original Royal Exchange fronted onto Cornhill.

As a ward of the City of London Cornhill elects an Alderman to the Court of Aldermen, and Commoners (the City equivalent of a councillor) to the Court of Common Council of the City of London Corporation. 

Area Type: Commercial.

Nearby Amenities: Fortnum & Mason and Royal Exchange Jewellers are close by and the area is very well served with upmarket retail services.

Suitable for business types: Professions, Luxury Retail, Legal, Property.

Read more ...
---
50% Off

Directors Address service
If you also buy the Registered Office Address and Business Address services.
Use code: DIR-50
FREE

Company Formation (Was £20)
With every Registered Address service. Submit in as little as 60 seconds!
£25 Off

Dormant Company Accounts
Let our accountancy team file this with Companies House within 24 hours!
Use code: DCA-25