Meeting Room Offer - Cornhill, London EC3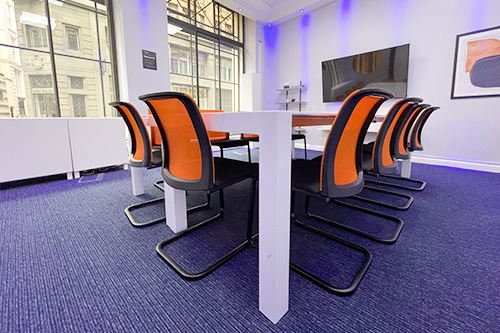 3 FREE sessions in a 10-seater meeting-room, in your first 12 months*.

New offer: Free meeting room sessions, in a 10-seater meeting room, once a month, for the first 12 months of your subscription.
Buy one of our premium addresses and get 1 free session, per Address Service purchased, at our Cornhill, City of London address. 
Meet clients or other important persons in an impressive environment. Have your annual company or staff meeting there. The room can accommodate up to 10 people comfortably.
This offer is only available at our Cornhill, London EC3 office. Room sessions are currently 9am to 12.30pm & 1.30pm to 5pm, Monday - Friday. 
Includes: whiteboard, filtered water and tea and coffee-making facilities. 
(*Subject to availability. Only applies to Services purchased at registration. Fees are normally £60+VAT per session. The room must be booked by support ticket at least 48 hours in advance during the working week, stating time, date and duration of meeting. There are no wifi or printing facilities, currently.)
---